Hello, welcome to my website. I've been guiding on beautiful Cedar Creek lake for the past 20 years. This is a great overall lake for all types of fishing, whether you're fishing from the bank or out on a boat. It's especially good for White Bass, limits are the norm during spring and summer months. This lake also has a good population of Hybrid Stripers with many in the 4-6 lb range. Whether you want to fish for fun or stock freezer for a family fish fry let me be the guide for you.
I will provide you with a roomy 22 ft Skeeter Bay boat which can comfortably fish up to four folks. I provide all tackle and will clean and bag your catch upon request. All you need is a current license, cooler for drinks/snacks and a smile.
I do some Crappie but is seasonal and will only take up to two folks.
Children are always welcome and are encouraged to take a swim during those hot hot summer days.
Corporate trips available, just give me advance notice.
Thanks so much for visiting my website, look forward to fishing with you.
20 Years in Business – All Tackle Furnished
2 persons (1/2 day) $250, 3 persons (1/2 day) $325, 4 persons (1/2 day) $400 – full day rates are $125 more – to book a trip call (972) 768-1811 or email billyseafish@sbcglobal.net
(For advance bookings there is a $100 deposit for all first time clients.)


Cedar Creek is teeming with fish. Limits of white bass are almost a given during the summer months. As the thermocline sets in the fish will stage shallower making it easier to find and catch them. The plentiful hybrid striper in this lake average 6 pounds with fish over 10 not that uncommon. The lake record is 13.15 pounds. The best time for hybrid fishing is April-May and then again during the month of November. It is also a great crappie lake. It is not uncommon to catch your limit of crappie without any under 10 inches. Most weigh over a pound with 2 pounders not that uncommon.
It is an easy lake to fish. Wind can be a deterrence but there are spots you can find that are out of the wind. Weekends do get crowded but weekdays are basically you and the fish.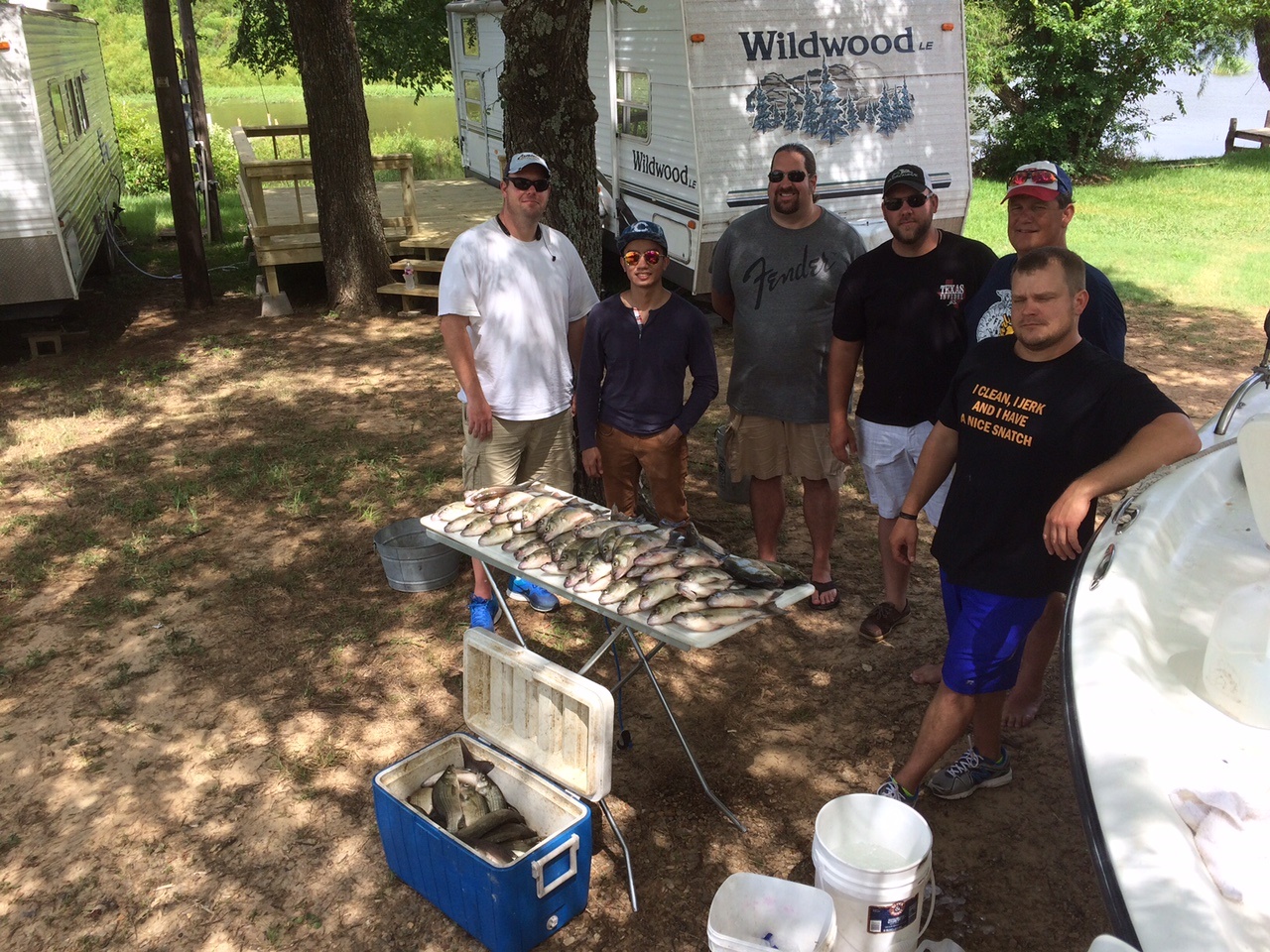 "Thanks again for today we really enjoyed it & look forward to fishing with you again." – Terry M.
"We had a great time fishing!!! I was amazed at how fast we reached our limit…you were a blast. I've already sent your link to 2 people that I work with and I haven't even showed off the pics yet. We will definitely book with you again." – J.S.
"Billy, we had a great time on the trip Monday. Weather was good and the fishing was great. Appreciate all of your efforts to put us on and keep us on fish." – Thanks, B.M.
"Good Evening Billy, Andrew and I thank you so very much for a 1st class experience. It was good remembering the Oak Cliff days. Today was Andrew's very first fishing trip, and he will never forget any of it. You are not only a superb guide; your teachable spirit for a 9 year old was very comforting." – Blessings, Phil Lynch

"It doesn't matter if you fish out of Billy's boat or Billy is fishing with you out of your boat, he will still put you fish. Billy fished with us Monday 11/9/09 and we had our limit of 100 magnum sand bass in less than 2 hours of fishing." – Doyle

"Billy, I had a great time! Perfect day." – Thanks, Gary

"By 10:15 we had caught our limit of 75 fish (25 each) and headed back to the dock. I think the ice chest must have weighed over 100 lbs. Luckily Scotty was there to help carry the chest with Billy. It would have been a bit too much for me and Joe to lift. LOL. After Billy finished cleaning the fish we had about 40 lbs of Sand Bass fillets." – Bill
"Hi guys, I just wanted to let you know that I was one of groups that went fishing with Billy last Saturday.
Billy took really good care of us and as you can see we really got into the fish. I'm not much of a fisherman but Billy made me look good.
Thanks again Billy, we had a great time with you and I'm sure we'll be planning another trip in the future." – Marion

"Had a great time Friday morning and I used what you taught us and got my limit yesterday morning at the tennis court location. Found them in 15′, marked them and about an hour and a half later got the limit. I have never done that before by myself, it was great… Thanks again, we are already talking about going out with you at the first of fall." – Greg. W